DE WOBLES
Woblet is a small village, miles away from anywhere.
The inhabitants, the wobles, are a particularly creative breed of cats.
The wobles have a strict daily routine.
They play the warm-up at six o'clock in the morning as morning gymnastics. At breakfast they make the Woblet crossword. Then they go to the market to play barter. And in the evening, it's time for the big adventure. Then they have a blind date full of surprises.
Valid for all games.
In Woblet you make words with the bigger letters on the tiles.
The smaller letter shows which bigger letter you will find at the back.
​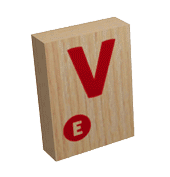 . You are free to choose which side of each tile you use.
You can use conjugations and compound words.
Only abbreviations and proper names are not allowed.
The fastest player wins.

Have you noticed a language error?
Please let us know on info@woblet.eu. Thanks a lot.
© 2019 Jorta BVBA - Ellermanstraat 10 - 2060 Antwerpen- Belgium
website: Artattack.be